With the vast array of website builders out there, choosing one can be difficult. Comparing popular contenders Wix and WordPress is a time-honored debate that won't cease any time soon – but which is ultimately better for you?
Luckily, we've done all the research to make it easier: from an overview of each platform through eight essential differences between them, in this blog post, we'll provide guidance in helping you decide which builder best suits your needs! In addition, our final verdict will summarize everything into simple terms so selecting just got much easier. Don't miss out – read now to choose wisely!
Wix vs WordPress: Overview
When it comes to website builders, there are a few big names that stand out. These are Wix and WordPress. With Wix's drag-and-drop builder, users can quickly create beautiful websites without the need for coding knowledge or complex instructions.
Meanwhile, WordPress provides an open-source CMS that allows you to customize your site beyond what's available with templates: choose from thousands of themes and plugins to make sure your web presence is truly unique.
What is Wix?
Wix is a cloud-based platform that allows users to create websites without the need for coding knowledge or skills. With Wix, you can create a website by simply dragging and dropping different elements onto a blank canvas and quickly building professional websites in minutes using pre-made templates.
It offers features such as custom domains, SEO optimization, analytics, and app integrations. Wix is an excellent choice for beginners who don't have extensive coding knowledge or experience with web development. Additionally, all Wix sites are mobile-friendly from the get-go.
What is WordPress?
WordPress is an open-source content management system (CMS) with thousands of plugins, themes, and other features to help you create a customized website. With WordPress, you have complete control over your website.
It comes with built-in blogging capabilities and can be used for small to large-scale websites. WordPress requires more coding knowledge than Wix and may take longer to set up and manage, but it offers more customization options and scalability.
Eight important differences to understand before deciding between Wix and WordPress.
1. Ease of Use
The ease of use between WordPress and Wix is vastly different. In self-hosted WordPress, it needs to install on your own web server, while Wix is a hosted platform where you can create a website within minutes.
When it comes to Wix, the platform has been designed with an easy user experience in mind. The platform allows you to create a website quickly and easily with no technical knowledge or coding skills required.
The drag-and-drop Wix editor makes it simple to customize your site with text, images, videos, and more. Furthermore, if you need help setting up your website or resolving any issues, Wix provides 24/7 customer support as well as detailed tutorials and an active online community.
On the other hand, Wix is easier to use than WordPress for beginners. Although WordPress has a wide range of features that make it one of the most powerful content management systems available, there is a bit of a learning curve associated with it.
To get started with WordPress you will need basic web development skills such as HTML/CSS and PHP coding knowledge but there are plenty of tutorials and support forums available online.
You'll also need to be familiar with various web technologies such as databases and FTP (file transfer protocol). Additionally, since hosting is not provided by WordPress itself you will need to do some research into finding a reliable web hosting plan before getting started.
WordPress and Wix are fairly easy to use, with Wix, you have to create your pages and menus before you start adding content, while with WordPress, you can just start adding content and then create your pages and menus later. Wix also has more templates to choose from, but the templates in WordPress are a little bit more customizable.
Conclusion: There is no clear winner when it comes to ease of use between WordPress and Wix. Both platforms are relatively easy to use, but there are some differences.
WordPress is a little more user-friendly and tends to be a bit more intuitive, while Wix is easier, a little more customizable, and offers more options for design. In the end, it really comes down to personal preference. Some people may find WordPress easier to use, while others may prefer Wix's more customizable options.
2. Cost
Cost is an important consideration when deciding between Wix and WordPress. With Wix, you get a basic website for free but additional features require a subscription ranging from $4.50 to $24.50 per month. An important thing to bear in mind is that if you stop your subscription, you will lose all the work you have put into creating your original website.
WordPress has its own free version available but it doesn't include many design tools or customization options so if you want these features you need to purchase them separately from third-party vendors such as theme developers or plugin providers.
In addition to this cost, if you want premium hosting services you will need to pay for those too which can range from $4-$45 per month depending on the provider.
Additionally, if you choose to use a custom domain name for your website then there may be an extra registration fee depending on the domain extension chosen (e.g., .com,.net,.org).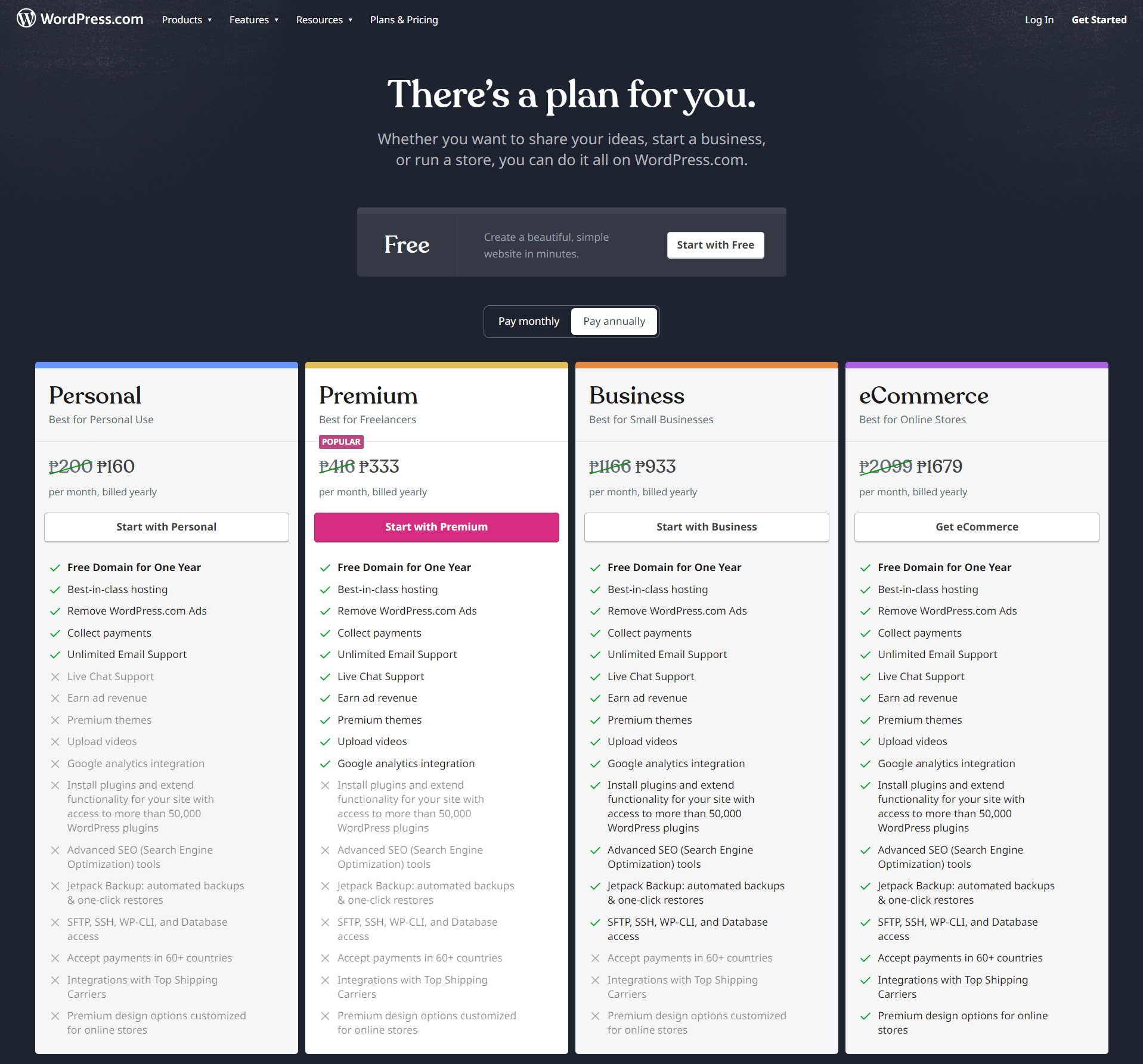 For people who want to monetize their websites, it doesn't take much time to set up a payment gateway when using Wix. Moreover, pricing options are quite flexible as users can select from various plans available according to the number of products they wish to sell.
WordPress also allows users to monetize their websites by connecting them with payment gateways such as PayPal and Stripe but for this purpose, users need to buy WooCommerce plugins and this plugin comes with certain costs attached to it too.
In addition, one has to pay for hosting every month for having WordPress on his/her websites which makes it more expensive than Wix on a long-run basis. Furthermore, many WordPress themes may cost more than those provided by Wix so users should do some research prior to spending money on them.
Conclusion: When deciding between Wix or WordPress it is important to consider not only which platform offers the best design tools and features but also which one provides the most cost-effective solution based on what type of website needs to have.
Both platforms offer different options that make it possible to create a professional-looking website without having to spend a lot of money upfront but understanding their respective costs before committing is essential in order to ensure that users get the best value for their money in the long run.
3. Breadth of features
When you are considering between Wix and WordPress, one of the important factors to consider is the breadth of features offered by each platform. While both platforms provide a range of features, there are some notable differences in the types of features available and how they work.
Starting with Wix, the platform offers an extensive range of features that can be used to create websites quickly and easily. The platform has a drag-and-drop website builder that makes it easy for users to customize their website design without any knowledge of coding or web design expertise.
Additionally, Wix offers a range of pre-made themes that users can choose from to quickly create their website. Additional customization options such as adding videos, animations, audio clips, and more are also easily accessible on the platform.
In addition to its simple website design tools, Wix also provides additional features for businesses including eCommerce capabilities for online stores, payment processing for accepting payments online, marketing tools for creating ads and promotional emails, as well as analytics tools for tracking visitors and customers. Additionally, hosting is included in all plans so users don't need to worry about finding a separate host.
On the other hand, WordPress offers an impressive selection of features as well but has a slightly different focus than Wix. Similar to Wix, theme customization in WordPress can be used to create websites quickly with no coding skills required; however, unlike Wix where themes are limited in scope and customization options are limited outside of the drag-and-drop builder, one advantage is that WordPress offers access to thousands of customizable themes with vast amounts of WordPress plugins and themes that can be added or removed from a website at any time.
This makes it much easier for users who want more control over their site's look and feel while still having access to powerful tools such as SEO optimization or specialized security tools.
Additionally, while Wix offers basic eCommerce capabilities out-of-the-box along with hosting services as part of their plans; WordPress requires users to purchase third-party hosting services as well as plugins if they want access to more advanced eCommerce functionalities such as inventory management or customer loyalty programs.
Similarly, while both platforms offer marketing tools such as email newsletters or social media integrations; due to greater flexibility of WordPress, allows these services to be customized much more extensively than they can on Wix giving businesses better control over how they interact with their customers.
Conclusion: When choosing between Wix and WordPress, it's essential to consider the degree of customization necessary for your site.
While customizable features abound on both platforms, there are a few potential drawbacks associated with using Wix; With Wix, there is greater ease of use with more basic functions but flexibility can be limited if your needs become more complex or specialized.
Furthermore, moving away from this system may not always prove possible should future changes need to be made down the line in terms of hosting solutions or other design alterations; something which could hamper creativity for those who crave customizability at every stage of their site's development process.
4. SEO
When it comes to SEO, there are several important differences between Wix and WordPress. Both platforms have their own unique set of features and capabilities that can impact a website's ranking in search engine results pages (SERPs).
First, when it comes to the basics of SEO, WordPress has a much larger array of native features than Wix. This means that WordPress is better equipped to help with basic SEO tasks such as meta tag optimization, setting up canonical URLs, and more.
Additionally, WordPress users have access to a wide variety of plugins that can further improve their website's SEO performance. However, Wix only offers basic optimization tools and does not have any plugin support.
This means that if you're looking to customize your website's appearance or functionality for better search engine visibility, you'll need to look elsewhere for help.
Second, when it comes to content marketing strategies, WordPress has an advantage over Wix due to its wide range of content-specific plugins and themes; these allow websites built with WordPress to employ sophisticated content marketing techniques such as keyword targeting and internal linking for greater SERP visibility.
Meanwhile, Wix users are left relying on generic optimization techniques such as alt text tagging or backlinking from other sources.
Thirdly, while both platforms offer the ability to customize page titles and meta descriptions for better SEO performance, Wix falls short here because the platform limits how much information you can add here (40 words maximum).
This can be a major handicap if trying to optimize individual pages for specific keywords or phrases. In contrast, WordPress allows you to create custom page titles and descriptions with no limit on character count.
Fourthly, both platforms offer basic XML sitemaps which help search engines index your site more efficiently however only WordPress gives users the ability to customize their sitemaps with additional data such as metadata or rich snippets. Meanwhile, with Wix, all XML sitemaps are automatically generated and can't be adjusted in any way by the user.
Fifthly is speed – since websites built on WordPress require separate hosting services whereas those powered by Wix are hosted on the company's own servers where they benefit from optimized caching systems which give them an edge here compared to websites hosted elsewhere.
Finally is cost – while WordPress may require hosting fees along with some paid plugins in order to get optimal performance; those using WiX don't need any extra costs since everything needed is included within the platform itself at no extra cost making it a much more affordable option than WordPress even if its features aren't quite as extensive as what you get with WordPress-based sites.
Conclusion: While both platforms have good aspects when it comes to SEO it's clear that WordPress offers significantly more options in terms of customization thanks to its vast plugin library plus advanced features like custom page titles/descriptions and meta tags which give webmasters far greater control over how their sites appear in SERPs compared with what we get from WiX though its lack of financial investment might make it appealing for some too so depending upon your budget either platform could be suitable for your particular needs when it comes optimizing your site for search engine rankings – just make sure you keep all these points in mind before making your final decision.
5. Security
When it comes to choosing a website platform, security is an important factor to consider. Both Wix and WordPress have measures in place to help keep websites safe from malicious intent, but there are some key differences that should be taken into account when deciding which platform is right for your needs.
Wix is a hosted platform, meaning they maintain the servers and do all of the software updates. This makes security issues much easier to spot, as all necessary patches and fixes can be quickly implemented by Wix's team of experts. With a comprehensive set of security protocols in place, websites built on Wix are secure out of the box.
User data is encrypted during transmission or stored on the server, making it difficult for hackers to access sensitive information. Additionally, Wix employs AI-based algorithms to scan for malicious content or vulnerabilities before publishing changes live on the site.
On the other hand, WordPress is an open-source platform that relies heavily on user input and customization tools. As such, its security protocols can be more complex than those available through Wix – but only if users choose to put them in place. By default, WordPress sites are vulnerable to malicious attacks unless additional steps are taken (such as using a dedicated hosting service).
It's also important for users to update plugins regularly in order to ensure their site remains up-to-date with the latest security patches. To make matters worse, certain themes and plugins may contain code that can be exploited by hackers if not properly secured.
Conclusion: When deciding between two popular web development solutions, careful consideration must be made; while both offer viable options for website security, WordPress as an open-source platform requires extra attention in terms of protection from potential threats.
Fortunately, there are multiple resources providing guidance on the best methods to secure a WP site – all it takes is some research and preparation. Ultimately, when selecting between these two powerful web development options one must carefully consider their own specific needs as each provides varying levels of security features.
6. Scalability
In terms of scalability, Wix offers a limited range of options catering mostly to small-scale websites. The platform doesn't provide the same level of flexibility while WordPress does a great job in terms of customization or expanding features.
This means that sites built with Wix are not ideal for large-scale projects or businesses that require complex features. Additionally, if you want to move from a free plan to a paid plan on Wix, there are limited upgrade options available to suit larger requirements.
WordPress, on the other hand, offers much more flexibility in terms of scalability. Not only can you customize and expand the features of a website easily with WordPress but also accommodate large-scale business projects and feature-rich sites without any issues at all.
Furthermore, WordPress provides various hosting packages that make it easy and affordable to scale up as your needs increase over time without having to switch platforms or start over from scratch.
Conclusion: WordPress and scalability are closely related due to the open-source nature of the platform, which allows for endless customization options.
This flexibility and expandability make it the clear choice for larger businesses or feature-rich websites where scalability is key. While both platforms offer different approaches to scalability, WordPress has a distinct advantage in this regard.
7. Plugins & Extensions
Plugins & Extensions are a great way for users to customize their websites and expand the functionality of the platform they are using. Both Wix and WordPress offer plugins and extensions that users can take advantage of, but there are some important differences between them.
Wix has built-in features. However, when users need something more specific or specialized, they can utilize plugins or extensions to extend the capabilities of their website.
These are usually found in the Wix App Store, where users have access to an extensive selection of tools for any type of website. Furthermore, these tools come with detailed guides and support that explain how to install and use them.
On the other hand, WordPress has a huge amount of plugins and extensions available. The software itself is open source, so developers are constantly creating new tools for users to take advantage of.
It also has an incredibly large community that provides support for any problems that may arise from using them. Additionally, the WordPress directory contains thousands of plugins and themes for users to choose from; this includes both free and paid options.
Another difference between the two platforms is how they handle pricing for their services. With Wix, most plugins and extensions are free with a limited number available as premium upgrades.
With WordPress, however, many popular plugins can be downloaded free of charge while premium options cost money – usually on a per-site basis or through a subscription service model – but they often include additional features such as priority support or extra customization options that make them more attractive than their free counterparts.
Finally, when it comes to security concerns around WordPress plugins and extensions – which can be a major concern due to their ability to introduce malicious code into a website – Wix App Market, will automatically update the platform that helps protect against any potential risks from using third-party applications on your site.
On the other hand, most WordPress users need to manually check for plugin updates in order to ensure their website remains safe from security threats posed by outdated applications.
Conclusion: Both Wix and WordPress offer a variety of plugins and extensions that allow users to customize their websites and expand the functionality of the platform they are using. When it comes to building a website, Wix offers a smaller number of well-supported tools and plugins with detailed guides for installation and use.
Many are free or have limited premium versions available in their App Market platform – plus they provide automatic updates that protect your site from any security risks associated with third-party add-ons.
On the other hand, WordPress has more options when it comes to themes and plugins including both paid ones but users need to be mindful of manual updates required so as not to miss out on features & bug fixes – however, there is an active community providing excellent support.
8. Support
When deciding between Wix and WordPress for website building, support is a crucial aspect to consider. Both platforms offer customer service options for users experiencing technical difficulties, though their approaches differ significantly.
Wix offers an extensive support system that includes a knowledge base of helpful articles, live chat with in-house agents, and 24/7 phone support.
Through its active user forum, customers can post questions and get answers from both the platform's staff as well as other users. Furthermore, Wix often responds quickly to customer inquiries on social media platforms such as Twitter or Facebook.
WordPress also provides support services for individuals needing help with their websites. Its customer service team provides assistance through email and online ticketing systems. The team is available 24/7 and typically responds promptly to inquiries.
Additionally, the WordPress community is large – made up of thousands of users who provide assistance through public forums. This has been described by many as one of the platform's greatest strengths; however, it also means responses can come from less knowledgeable sources than from Wix's customer service team.
Aside from direct customer service provided by either platform, there are plenty of third-party resources that can be utilized when utilizing either one, such as tutorials offered by blogs and YouTube channels run by web developers or those experienced in using either platform.
Both Wix and WordPress also have a number of dedicated app stores where users can purchase premium plugins and themes created by independent developers to enhance their websites or improve functionality.
Conclusion: When considering which website platform to choose, it's important to weigh a range of options: from budget and desired outcomes to technical capabilities and support structure. Do you want direct access to experts or the freedom of self-teaching through forums filled with both knowledgeable professionals as well as helpful everyday users? Whichever route you take – WordPress or Wix – careful consideration will ensure success.
Final Verdict: Wix vs WordPress – Which One is Better?
In the battle of Wix vs WordPress, it's clear that WordPress comes out on top. While Wix is a great platform for creating websites, Wix doesn't offer the same level of flexibility and customizability that WordPress does. With a WordPress website, you can create any type you want, from a simple blog to a complex eCommerce website.
When it comes to features, both platforms offer basic features like contact forms and image galleries – but WordPress offers more advanced features like eCommerce integration and membership support.
This makes WordPress ideal for businesses that require these types of services while Wix is better suited for small businesses that don't need these extra features. Additionally, the plugins available for WordPress are thousands which can help you customize your website even further – whereas Wix only offers a handful of plugins.
Plus, WordPress is free and open source, which means you can customize it however you want. And if you need help setting up or managing your website, there are plenty of WordPress experts available who can help you get set up and keep your website running smoothly.
Lastly, WordPress provides an extra layer of security for users compared to Wix, giving them peace of mind that their information is safe and secure.
So, that's it! We hope this comparison of Wix vs WordPress has helped you understand the differences between these two popular website builders and make an informed decision about which one is best for your needs. Good luck!