Shopify is a popular eCommerce platform that many business owners use to create their online stores. However, some business owners may find that they need more flexibility and customization than Shopify can offer.
In this case, they may want to consider migrating to WooCommerce. WooCommerce is a powerful eCommerce platform that gives you more control over your store and allows for endless flexibility and customization.
However, there are some things to consider before making the switch from Shopify to WooCommerce. In this blog post, we will explore the pros and cons of using WooCommerce as an eCommerce platform and compare it to Shopify. We will also provide tips on how to migrate from Shopify to WooCommerce.
Why Choose WooCommerce Instead of Shopify
When it comes to setting up an online store, there are a lot of options out there. Two of the most popular choices are WooCommerce and Shopify. So why should you choose WooCommerce instead?
For starters, WooCommerce is completely free to use and has a wide range of customizable features, giving you the flexibility to create the exact store you want. It also integrates seamlessly with WordPress, allowing for easy content creation and management.
On the other hand, Shopify can be expensive, with fees for transaction processing and added features. And while Shopify does offer more technical support, WooCommerce has a large community of users and developers who provide support and troubleshooting assistance. Overall, if you're looking for an affordable and customizable solution for your online store, WooCommerce is the way to go.
More Control Over Pricing
When it comes to setting up an online store, there is a multitude of options available to entrepreneurs. However, two popular options are WooCommerce and Shopify. One major difference between the two is control over pricing.
With WooCommerce, store owners have complete control over their pricing structure, allowing them to provide discounts, create custom pricing for specific customers or groups, and change prices at any time without limitations or additional fees. On the other hand, Shopify has restrictions on discount codes and charges extra fees for advanced pricing options.
If having control over pricing is important to you, then choosing WooCommerce may be the way to go. Another important factor to consider is that WooCommerce is a free platform while Shopify requires a monthly subscription fee, making it more customizable and cost-effective in the long run.
At the end of the day, every business has unique needs and priorities – but when it comes to pricing control, WooCommerce offers far more flexibility than Shopify.
Endless Flexibility and Customization
Both offer tools for setting up an online store, but if you're looking for endless flexibility and customization, WooCommerce has an extension marketplace with over 300 online store-specific add-ons. Unlike Shopify, WooCommerce is a plugin for WordPress websites, providing seamless integration with your existing site.
This also allows for greater customization options, since you aren't limited to the themes and templates provided by Shopify. In addition, WooCommerce has a larger selection of plugins and extensions to add even more functionality to your online store. The bottom line? When it comes to customizing your e-commerce experience, WooCommerce offers endless possibilities.
Unlimited variations
Store owners have plenty of options to choose from, however, one standout choice is the open-source platform WooCommerce. One major perk of using WooCommerce is the ability to offer unlimited product variations.
On Shopify, the basic plan only allows for 100 variations per product and higher-level plans can get quite expensive. With WooCommerce, store owners have the freedom to offer as many variations as they need without any additional fees.
This means more flexibility in showcasing different sizes, colors, and styles for a single product. It also opens the possibility of offering custom ordering options for things like personalized engravings or monogramming. In short, choosing WooCommerce over Shopify gives small business owners the power to truly customize their online store and better serve their customers.
More control over your store
With WooCommerce, you have full control over the theme design and functionality of your online store. WooCommerce does not limit you to your chosen themes and plugins; you can customize every aspect of your WooCommerce website to match your brand and meet your customers' needs.
Additionally, you have complete ownership and access to all the data and information associated with your store, allowing for more flexibility in the way you run and manage your business.
Overall, choosing WooCommerce means having the freedom to make your store exactly what you want it to be. And with the support of a talented developer, the sky's the limit for what you can achieve. So why go with Shopify's limitations when you can have it all with WooCommerce? Choose total control over your online store.

How to Migrate from Shopify to WooCommerce
If you're wanting to switch your eCommerce platform from Shopify to WooCommerce, here are three ways you can complete the transfer:
1. Manually migrate store data
If you've decided to make the switch from Shopify to WooCommerce for your online store, the first step is migrating your store data. While this process can be tedious and time-consuming, it's crucial for maintaining a smooth transition for both you and your customers.
The good news is that Shopify allows you to export your customer information, orders, products, and other important data in CSV format, which can then be easily imported into WooCommerce. With some patience and attention to detail, you'll have successfully migrated all your store's vital information.
Manually export data from Shopify
Use the following steps to export your data from Shopify:
1. Log in to your Shopify account.
2. Hover over the Settings tab and click on Export Data.
3. From the Export Data screen, select the data you want to export and click the Export button.
4. You will be prompted to save the exported data as a CSV file on your computer
Manually import data to WooCommerce
To manually import data into WooCommerce, you will need to first export the data from your Shopify platform. This can be done by following the steps below:
1. Open WooCommerce and navigate to the Import tab.
2. Click on the Choose File button and select the CSV file you just exported.
3. Click on the Import button and wait for the process to finish.
2. Use a data migration app
While the initial transition can be intimidating, there are ways to make the process easier. If you have a lot of data to migrate, you may want to use a data migration app such as Cart2Cart, to transfer your essential information. Cart2Cart is a powerful data migration app that will allow you to quickly and easily migrate your data from Shopify to WooCommerce.
This app will automatically migrate products, customers, and orders from your Shopify store to WooCommerce. They also offer support during the migration process and guarantee no loss of data. Although some manual setup may still be required, using a data migration app can significantly streamline the transition from Shopify to WooCommerce for your online store.
3. Get a professional to migrate store data
When it comes to switching from Shopify to WooCommerce, a common concern is how to migrate store data such as products, customer information, and transaction history. While there are options to do it yourself, hiring a professional can save time and prevent any headaches in the long run.
A specialist will have experience with this process and be able to transfer your data accurately and efficiently. Additionally, they can provide advice on optimizing your WooCommerce store and helping you get set up for success. So before starting the migration process, consider reaching out to a qualified expert who can make the transition smooth and stress-free.
Migrating from Shopify to WooCommerce using Cart2Cart
If you decide to use Cart2Cart to migrate your data, here are the steps you need to follow: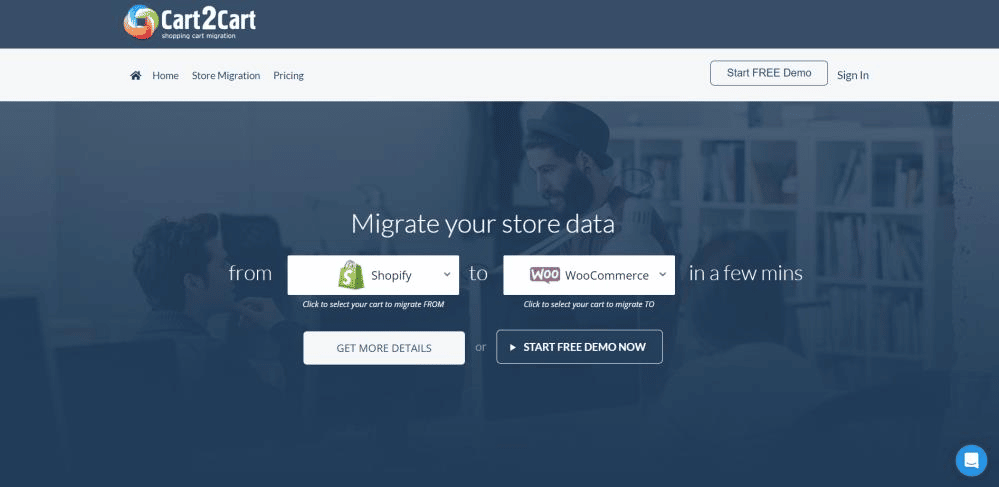 1. First, you need to create an account on Cart2Cart and sign in.
2. After that, click on "More" in the main menu and select "Migrate Shop".
3. On the following page, you need to enter your Shopify store's URL and choose WooCommerce as your target platform.
4. Click on "Next" and you will be asked to provide your Shopify store's login details.
5. After that, you will be asked to provide your WooCommerce store's login details.
6. Make sure that all the information is correct and click on "Start Migration".
7. Cart2Cart will start migrating your data and when it's done, you will see a report page.
Pros and cons of switching to WooCommerce: things to consider
Before you switch to WooCommerce, there are a few things you should consider. Here are some pros and cons of using WooCommerce:
WooCommerce Pros:
1. WooCommerce is a very popular eCommerce plugin for WordPress. It is used by millions of people around the world and has a very large user base. This means that there is a lot of support available for WooCommerce users.
2. WooCommerce is very versatile and can be used for a wide range of eCommerce stores. This flexibility makes it a good option for businesses of all sizes.
3. WooCommerce is free to use and there are no restrictions on the number of products or transactions that you can process. This makes it a cost-effective option for businesses of all sizes.
4. WooCommerce is easy to use and can be set up in minutes. This makes it a good option for small businesses that don't have the time or resources to manage an eCommerce store themselves.
5. WooCommerce comes with a wide range of features, including product management, order management, shipping options, and tax settings. This means that you can create a fully functional eCommerce store with minimal effort.
6. WooCommerce integrates with a wide range of payment processors, including PayPal, Stripe, and Amazon Payments. This allows businesses to accept payments from customers around the world.
7. WooCommerce is regularly updated by the developers at WordPress. This ensures that it remains up-to-date and compliant with the latest security standards
WooCommerce Cons:
1. The learning curve for WooCommerce is relatively steep.
2. WooCommerce can be quite resource-intensive, which can impact site performance.
3. There is a lack of built-in features and integrations with WooCommerce.
4. It can be difficult to find qualified developers to work on WooCommerce projects.
5. WooCommerce is not always the most cost-effective solution.
6. The support and documentation for WooCommerce can be inconsistent and
inadequate at times.
7. The WooCommerce community can be large and overwhelming, making it difficult to
find the right information.
A comparison: the Main Differences between WooCommerce and Shopify
Here is a comparison of the main differences between WooCommerce and Shopify:
| Features | WooCommerce | Shopify |
| --- | --- | --- |
| Cost | WooCommerce is a free plugin, however you will also need to pay for hosting, a domain name, and potentially other plugins or themes | Shopify charges monthly fees starting at $19 for a Basic Shopify to $299 for an Advanced Shopify. A 3-day free trial is available. |
| Flexibility | WooCommerce is a plugin that can be added to any WordPress site, which gives users complete control over their website's design and functionality. | Shopify is a closed platform that offers limited design and functionality customization options. |
| Support | WooCommerce only offers support to those who have purchased the premium version of the plugin and you will need to find support from the WordPress community or hire a developer if you encounter any problems. | Shopify offers 24/7 support to all users and their customer support team is always available if you have any issues with your store. |
| Hosting | WooCommerce is a self-hosted solution, which means you will need to find your own hosting provider and set up your own hosting account. | Shopify is a hosted solution, which means all you need to do issignupfor anaccountand they will take care of the hosting for you. |
| Scalability | WooCommerce can be used with WordPress multisite, which allows you to create multiple websites from one installation of WordPress. | Shopify can only be used to create one online store. |
| Payment Processing Fee | Allowed to use whichever payment processor you want with WooCommerce, allowing you to shop around for the best rates. | Required to use their in-house payment processor called Shopify Payments (formerly known as Stripe). This means that you will be subject to their fees, which are 2% + $0.30 per transaction for most plans. |