INTRODUCTION
Are you planning on building a new website? Are you concerned with securing your digital assets? Do you have a large network of contractors and employees and want to minimize who has access to what?
When it comes to digital assets, having a diversity of companies can provide both security and flexibility. By spreading out accounts with multiple companies, it becomes more difficult for hackers to access all of your information at once. In addition, if one company experiences a technical issue or outage, you won't be left completely unable to access all your services. Of course, managing multiple accounts can require some extra effort and organization on your part. But in the face of potential risks and inconvenience, the added layers of security and options are well worth it. When planning for your digital assets, consider spreading them across various companies for added protection. Let's explore the four primary types of web hosting:
Domain Hosting
DNS Hosting
Web Hosting
eMail Hosting
While it may be tempting to consolidate your various accounts into one for the sake of convenience, it is ultimately not in your best interest. By having separate accounts, you are able to establish independent and secure login information for each account. This not only protects your personal information, but also allows you to take advantage of specialized features and services that may not be available with a single consolidated account. In addition, utilizing multiple accounts can help improve the efficiency of managing your online presence by allowing you to assign tasks and schedules to different team members. While having multiple accounts may seem like an inconvenience at first, the long-term benefits far outweigh any initial frustration. Ultimately, it is important to trust and invest in high quality and reliable hosting services that can support and secure numerous accounts for you.
If you are not familiar, essentially having these items scattered between service providers, enables layers of security for your websites. Let's break down the differences between these accounts and go into a bit more detail about why it is important to maintain multiple services.
DOMAIN HOSTING
Domain hosting is keeping the registration of your domain with a company. This is your first layer and acts as the keys to your "vault". Domain hosting is the simplest and most basic type of hosting. With domain hosting, your website is simply registered with a domain name provider and hosted on their servers. This is the cheapest and most basic type of hosting, but it also has the fewest features.
Your "vault" (domain hosting) contains all your other assets such as DNS, Web, and eMail. When giving login credentials to reputable third parties to help manage your hosting services, you should keep your domain hosting limited to yourself and other trusted partners. Some layers of security we would recommend within your domain hosting environment would be to use 2FA and if possible, set up the domain hosting account with something like a personal email or a free Gmail account.
Having the domain hosting account owned by an email outside the organization's email builds a wall so even if someone has access to your email server, they won't be able to recover the password.
NS Records
When you type a domain name into your browser, it's the NS records that help direct traffic to the correct website. NS stands for 'nameserver'. Think of them as signposts on a road – without them, people wouldn't know where to go. It's common for a domain to have multiple NS records, but all of them must point to the same location in order for the domain to work properly. Without these important NS records, your website would be inaccessible and invisible to the online world. When setting up or troubleshooting your domain, be sure to check and update your NS records as necessary. They may seem like small technical details, but they play a crucial role in ensuring smooth browsing for both you and your visitors.
DNS HOSTING

DNS stands for "domain name system" which acts as the internet's phone book. Information from DNS is being read by your system whenever you look up a website or send an email. DNS hosting is a step up from domain hosting. With DNS hosting, your website's domain name is registered with a DNS provider and then hosted on their servers. This allows your website to have multiple subdomains and provides more features than domain hosting.
If your DNS fails, you'll lose access to your website or email in the worst-case scenario, but this can be restored and reorganized without much damage. Your technical team should be able to manage any and all of these entries for you. When it comes to website security, creating layers of protection is always a good idea. Keeping your DNS and domain hosting separate adds just such a layer, giving you an extra level of defensive control. A separate DNS means that you can easily share access with your technical teams without the worry that your domains will be compromised. In addition, if any security issues arise with the DNS provider, you can switch to a new one without disrupting your domain hosting. While it may require some additional planning, separating these two elements can pay off in increased peace of mind and enhanced website security. Additionally, your DNS is what informs people where to locate your web hosting and email hosting services.
If you don't have experience with DNS, it can be confusing to try and manage on your own. To learn more about our services and how we can help take the burden of managing DNS off of your shoulders, click here: DNS Management Services.
WEB HOSTING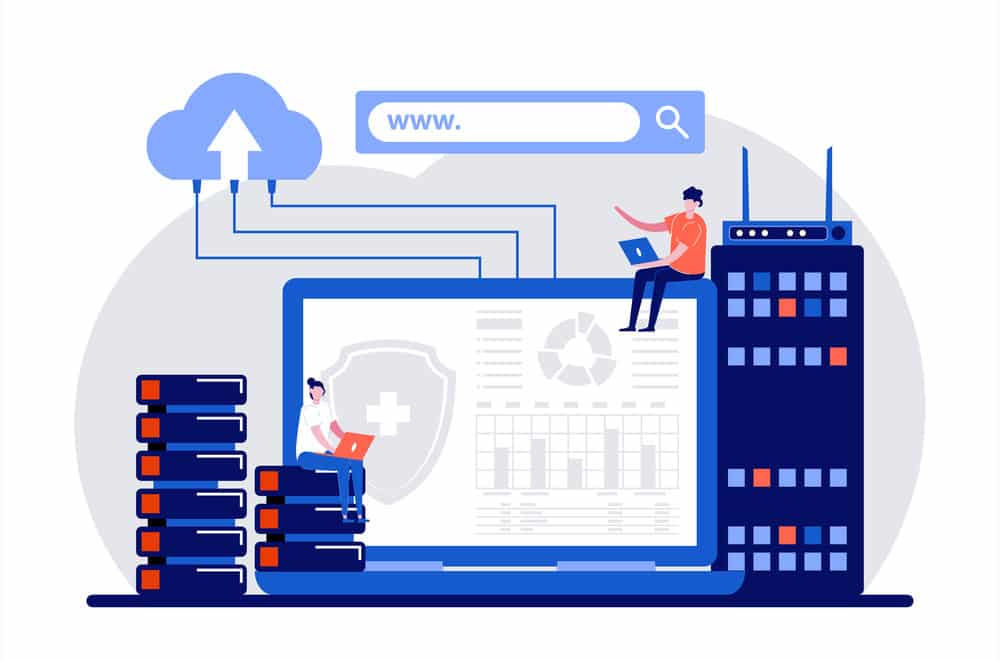 Web hosting is the provision of storage space and bandwidth on a server for use by a website. Customers can either purchase or lease space on a web server to store their website files. Customers also need to purchase a domain name, which is the address of their website (e.g. www.mywebsite.com).
Have you ever wondered where your website lives? It might seem like it exists in cyberspace, but in reality, your site resides on a physical server owned by a web hosting company. This server stores all the important files and databases necessary for your website to function properly and be accessible to the public. Even websites built using platforms like WordPress have their files stored on a hosting server. However, not all servers are created equal. It's important to do your research and choose a reliable hosting company with strong security measures in place to protect your site and its sensitive information. After all, you want your website to be up and running smoothly at all times, providing an enjoyable experience for visitors. So before committing to a web host, make sure you know exactly where your website will be living.
When it comes to web hosting and DNS management, some companies prefer to keep things separate. On the one hand, this can allow for specialized servers – one dedicated solely to DNS, for example, and another to handle web hosting needs. It also allows for a greater level of control, as the individual or team responsible for web development may not need access to other systems. However, it's important to note that while there are benefits to having separate DNS and web hosting, it's not necessarily a necessity. In the end, it really comes down to a company's individual preferences and needs. As long as their website runs smoothly and effectively, the specific setup is less important.
In our business, we deal with an incredible amount of hosting companies. There are probably only a few hosting companies we've not yet had the chance of working with and can honestly give you a pros and cons list for each company. There are many companies we would urge others to avoid doing business with for reasons that cannot be easily summarized.
EMAIL HOSTING
Email hosting is the provision of email service to a customer by a third-party provider. This can include the provision of email addresses, email storage, and email forwarding. Email hosting providers usually offer a range of features, including spam filtering, virus protection, and an easy-to-use interface. Email hosting can be found in many places. Most web hosting companies provide email services with their packages, but they are lightweight and do not compare to premium email hosting options like Google, Microsoft 365, Rackspace, or maybe even something else.
When it comes to the privacy and security of your email communications, keeping your email hosting separate from your web hosting can make a big difference. By having an external provider for your email hosting, you create an extra layer of protection that can ward off potential threats. Your emails are not stored on the same server as your website, so even if someone has access to that server, they won't be able to easily access your emails. It also means potentially sensitive information, such as financial or personal data, stays protected. Additionally, using an external email hosting provider gives you flexibility in terms of storage capacity and features without compromising security. The bottom line is that keeping your email hosting separate from your web hosting environment can provide peace of mind and ensure the safety and privacy of your communications. For example, if someone has access to your emails, they can also get into any other account that is associated with the email account. This could be Facebook, Google Ads, Slack, and possibly even your domain host.
Bad Actors Within Your Hosting Environments
Here are some examples of what can happen if a bad actor gets access to your hosting environments:
Domain Hosting – Your domains can be
DNS Hosting – Your DNS gets updated to point to another website, your email communications get siphoned to another provider, or all your DNS entries get
Web Hosting – Your website (platform) gets taken
eMail Hosting – Your email communications are This means any accounts tied to those email addresses are also vulnerable.
It's hard to know where and how best lock down your assets when you're hosting them yourself, but there are steps that will help. In all cases described above, almost every hosting environment needs work repairing; however, they can ultimately be fixed with enough effort on our end – provided we take care of security from the start by not giving strangers unlimited access like one might do through shared web hosts or any other similar situation. There is just one exception: If someone who isn't trustworthy has control over what happens via their domain name server then he may hold those keys which allow him entry into everything stored within—including sensitive personal data.
Buyer Beware – Not Everything You Read is Truth.
While it can be tempting to rely on internet reviews or personal recommendations when making purchasing decisions, it's important to do your own research as well. Unfortunately, many review and website hosting sites are run by affiliate marketers who have a vested interest in promoting certain products. In order to make sure you're getting unbiased information, try doing some independent investigation on the product or company in question. Consider looking up customer complaints or researching the company's history and credentials. Also, be wary of overly glowing or negative reviews – they may be fake or exaggerated. At the end of the day, trusting your own research alongside outside opinions can help ensure that you make informed and confident choices.
For example, this review site about BlueHost has a 4.9-star rating.
"Blue Host" would be a hosting platform we would discourage our clients from using. For example, after looking into the issue on one client's website- it turns out that "bluehost" support deleted multiple websites on their account! And this wasn't just some mistake– in some cases when they uploaded wrong files or directories with similar names (which can happen if your file system isn't set up well), both sites would change over time rather than being replaced by another version of itself like normal browser errors do while you're browsing online without any interruptions in site navigation. While we are using "Blue Host" as one example, we have seen other hosting giants like SlowDaddy just roll over their clients because they are just too big to care. We had one client get a $10,000+ bill from SlowDaddy for one month of email hosting. That number seems rather large and it is, but the insane part is they didn't even own an email server with SlowDaddy.
When it comes to web hosting, price and flashy features aren't everything. In fact, they could be signs of a subpar provider. A lack of reliable technical support can spell disaster for businesses and individuals alike, leaving websites inaccessible or vulnerable to security threats. Your website is often a central hub for customers and clients, so dealing with server issues or hacked accounts can quickly result in lost revenue and damage to your reputation. That's why it's important to consider overall service quality when choosing a hosting provider, not just the most affordable option or the one with the flashiest graphics. At [company name], we've seen firsthand the importance of having a host with responsive, knowledgeable support staff. When evaluating your options, don't forget to consider the level of support provided – it could end up making all the difference in maintaining a successful online presence.
Click here to read why some web hosts are better than others.
Ideas For Hosting Variations and Security Layering
At this point, it is time to consider the following output with variations as needed. You should know that not all service providers are the same and you get what you pay for.
Example Variation:
Domain Hosting – NameSilo
DNS Hosting – Cloud Flare
Web Hosting – Nexcess
eMail Hosting – Google Workspace
Domain Hosting Recommendations
NameSilo:
While the above example is just one variation, you are free to mix and match with service providers as you see fit. For example, if you're content with your domain hosting provider, there's no point in switching to another one. Moving the domains away from your current provider can result in additional complications and unneeded processes.
If you're on a budget or looking to cut corners, transferring your domains to another hosting provider could save you money in the long run. Although some domain name providers charge as much $40 per year for a .com domain, NameSilo is a company that only charges around $8/yr. If you manage one thousand domains, this could mean a yearly saving of $32,000 for you.
Alternative to NameSilo – Cloudflare
Cloudflare is a great option for domain hosting if you're looking for something similar to NameSilo. Cloudflare provides no upcharge on any of their domains and will always be the cheapest domain registered. They are also big enough that you shouldn't have to worry about them going out of business.
DNS Hosting Recommendations
Cloudflare
Cloudflare is pretty much the gold standard for DNS hosting. It has easy-to-use DNS Management tools, Unmetered DDOS Protection, CDN, Free Universal SSL certificate (Other companies can charge $200/yr+ for this), and a laundry list of other features all on their free plan.
Cloudflare's DNS is highly available with anycast routing and they have data centers located all around the world. This ensures that your website will always be up and running, no matter where your visitors are located.
Alternative to Cloudflare – Web Hosting Partners
There are many different providers available and if you are not worried about having every layer of security separated, we would recommend just merging your DNS and web hosting in one place like Nexcess.
Web Hosting Recommendations
Nexcess
Nexcess is a web hosting company that we have used in the past and they are great. They offer 24/7 support, a 99.99% uptime guarantee, and they have data centers located all around the world. Nexcess also offers a free CDN and SSL certificate with every web hosting plan.
It's rare to find a company that truly puts their customers first, but that's exactly what Nexcess does. Their customer support team goes above and beyond, always responding promptly and finding solutions to any issue. What sets them apart is their expertise in WordPress, a valuable skill in the ever-changing world of web hosting. They may cost a bit more than some other providers, but the peace of mind and holistic service they offer is worth every penny. When it comes to customer support, Nexcess is hands down the best we've experienced. Read more about why not all web hosts are equal.
Alternative to Nexcess – Liquid Web
While Nexcess is a fantastic company with top-notch customer service and performance, sometimes the needs of a business require a larger provider. In those cases, we always turn to Liquid Web. They offer advanced features and resources that can accommodate larger websites and more demanding requirements. Plus, they have a strong track record in uptime and reliability, ensuring that your website remains accessible at all times. And the best part is that Liquid Web and Nexcess share the same commitment to providing exceptional service, so you know you'll be in good hands. Ultimately, Liquid Web is the perfect choice for businesses looking for an upgrade from Nexcess. Anytime we have had to make the switch for our clients, they have been extremely satisfied with the results.
If you've ever experienced frustration by working with impersonal and unhelpful customer service representatives then you will appreciate Liquid Web. They are equipped to provide the same level of customer support as Nexcess and have the same lightning- fast servers. This company strives to change that experience by providing quick and effective resolutions as well as world-class customer service reminiscent of small businesses, all while maintaining its larger-than-life stature within the industry.
Alternative to Nexcess – WPMU
This is another great company and comparable to Nexcess in terms of its business model.
Alternative to Nexcess – Kinsta
When searching for a reliable hosting provider, it can be hard to know where to start. That's why it's a relief to come across a company like Kinsta, which has a business model comparable to that of industry leader Nexcess. Like Nexcess, Kinsta offers top-notch support and a wide range of services, including managed hosting and online security solutions. Plus, their pricing is competitive and they have consistently high customer satisfaction ratings. In short, [Name] is definitely worth considering when it comes to finding a dependable hosting provider.
eMail Hosting Recommendations
Google Workspace is a great place to host your email services. Finding support for the platform is easy and documentation is great. Other advantages include getting your domain setup on a reliable email service. It builds trust almost out of the box. Additionally, the web interface for managing your email is fantastic. You can set up automated responses, create filters to keep your inbox organized. If you are already connected with other Google services, Google is a great addition to your hosting providers.
Alternative to Google Workspace – Microsoft 365
Microsoft 365 is a great alternative to Google Workspace. It offers a similar web interface for managing your email and has fantastic documentation. Microsoft 365 also integrates
well with other Microsoft products, so if you are already using Microsoft products for your business, this is a great option.
Conclusion
We care about our clients and so should the hosting providers you work with. Take our advice from the examples above or do your research. There are a ton of options available in the market and there is no right or wrong solution. Just make sure you are setting up your systems for success.
As a business or organization, one of the last things you want to deal with is technical issues related to your hosting provider. Your website and email are crucial components for reaching customers and communicating with team members, so it's important to choose a hosting provider that you can trust. At Ok Omni, we prioritize our clients' needs and ensure their systems are set up for success. Whether it's registering domains or managing DNS settings, we offer affordable and scalable solutions for nonprofits, small businesses, and startups. When selecting a hosting provider, do your research and make sure they prioritize their clients' needs just as much as we do. Or, if you need some extra support, reach out to us at Ok Omni to see how we can help. Trust us – you won't be disappointed.